Manos Cruceñas Artisan Store is a nonprofit that supports over 100 indigenous Mayan women artisans from Santa Cruz, Guatemala. Our artisans are trained in the CECAP Vocational Training Center and earn a fair wage. Our artisans also receive non-economic support such as nutrition classes and women's empowerment workshops. Meaningful work at a meaningful wage. All proceeds directly benefit artisans and their families.
Kids' Art Cards
Whimsical greeting cards!
Perfect for sending a quick note or thank you!
The card designs are from original hand-made linoleum block prints created by school children in one of our programs and inspired by the world around them.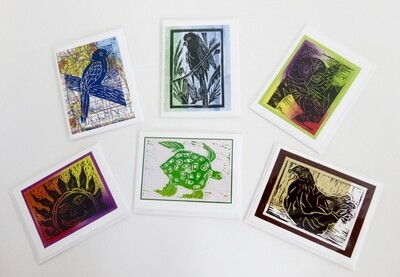 Kids' Art Cards - Set of 6 cards
Kids' Art Cards - Set of 6 cards
Delightfully whimsical notecards from designs by the children of Santa Cruz la Laguna.