SIGN UP TO RECEIVE UPDATES ON DISCOUNTS AND NEW PRODUCTS
Manos Cruceñas Artisan Store is a nonprofit that supports over 100 indigenous Mayan women artisans from Santa Cruz la Laguna, Guatemala. Our artisans are trained in the CECAP Vocational Training Center and earn a fair wage. Our artisans also receive non-economic support such as nutrition classes and women's empowerment workshops. Meaningful work at a meaningful wage. All proceeds directly benefit artisans and their families.
20" Wide Tortuga Scarves/Shawl - Multicolor
Manos Cruceñas The Tortuga 20"-wide scarf/shawl is an elegant pattern. The multicolor pattern is reversed on the opposite side which adds special interest when wrapped blending into a beautiful variegated weave. The multicolor pattern is achieved through using the leftover threads from our other scarves, making each piece unique in its composition.
Wear it either as an oversized scarf or shawl.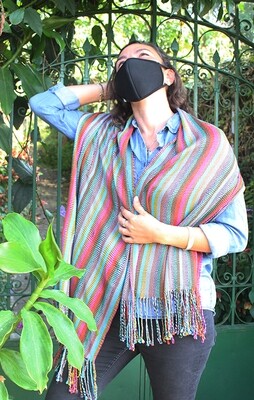 20" Wide Tortuga Scarf/Shawl - Multicolor
20" Wide Tortuga Scarf/Shawl - Multicolor